Anomie Belle does not waste any of her time or talent. Less than two months ago The Crush was released (and my, what a great record that is), but instead of taking a well-deserved break, Anomie Belle dived even deeper into work and in a few days (on December 6th, to be exact) she's releasing a new EP, featuring some very exciting material. I was lucky to snatch a few moments of her time for a quick Q&A for trippin' the rift.
tipkin – First of all, congratulations on the success of The Crush and on the new EP release! You sure keep busy. How did the idea for the EP come around? The timing couldn't be better – the Occupy movement is fighting the corporate machine as we speak.
Anomie Belle – Yea, the values and critiques that are coming out through Occupy are really exciting to me. It's inspiring to see the general public talking about the effect of "the corporate machine" on our lives, our culture, our values and our communities. I have long admired the contributions artists have been making to the conversation (I am a huge fan of culture jamming) and am happy to be able to contribute as an artist myself. When Occupy started springing up, Lif and I felt like the match with the track and video we did for "Machine" was really striking. I'd just returned from England having written some new songs with Ian [Pickering] from Sneaker Pimps around similar issues and ideas, so it seemed like a good time to pull these songs together with some of the great remixes I'd had done for The Crush (including an awesome remix of "Machine" by Big Spider's Back) and put them out.
t. – Most of your fans (myself included) appreciate your adventurousness in terms of genre and style, but I personally did encounter one hardcore trip-hop fan who said after listening to The Crush: "Anomie Belle is dead to me". And you keep broadening the range with the EP – from "Slither", which is guaranteed to please any "traditional trip-hop" fan to a bouncy dance remix of "Machine". Do you like getting your fans out of their comfort zone?
A.B. – In general, I think getting out of our comfort zones in life is an important part of challenging ourselves to be humble, to grow, to broaden our perspectives, and to reconnect to the world outside of ourselves. We want things in life to live in boxes, to be easily identifiable, predictable… not to change. People, ideas, art, our self-identities… The truth is that nothing is fixed. Everything is always changing. For me, it's about pushing myself where I'm most afraid, challenging myself to confront the areas where I know I have judgments, to grow… This is the spirit in which The Crush was made, so it would make sense if that came through to people in the music.
t. – Let's talk about "Slither" more. The legendary Sneaker Pimps! Did you know Ian Pickering before? What was it like working with him? Are we going to see more collaborations with him in the future?
A.B. – I loved working with Ian. He is a delightful person – sincere, kind, positive, and with such a genuine spirit of openness in collaboration that made him a real pleasure to work with. Making music with someone can be such a great opportunity to connect. With Ian, we spent several days holed up in a little smoky room in London, bouncing music, lyrics and melodies back and forth, and came out with some material I think we're both really excited about. "Slither" is the first thing we worked on together, and since it was written over production from Augustus Skinner (who had worked on the Sneaker Pimps Becoming X album years ago), it was easy to finish and release quickly. That said, folks can definitely anticipate more from Ian and I in the future.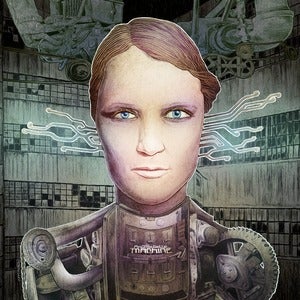 t. – Where did the remixes come from? What were the criteria for choosing the right remixes for the EP?
A.B. – Choosing folks to do remixes for The Crush was a lot of fun. In general, I reached out to folks whose music I like. I think Big Spider's Back did a fantastic job on this remix of "Machine", and I love Tapage's glitchy programming on the "Electric Lullaby" remix on this EP. Atropolis and Damiak did great remixes of "Inky Drips", and I've got a few more remixes on my hands that haven't been released yet as well… It's been a cool process because with most of the musicians, I've set up trades for the remixes, so now I'm getting to work on a lot of these artists' material, which has been a ton of fun and will end up resulting in even more new music and collaborations.
t. – Do you want to tell us a bit about the music video for "Machine"? The combination of skater dudes (who are those guys anyway?) and the chess game in scary makeup in front of a fireplace is pretty bizarre!
A.B. – That video was a lot of fun to make. The director, Bogdan Darev, is a wonderfully imaginative person, and he pulled together an incredibly talented, enthusiastic group of folks to make that video. Brendan Flynn did the cinematography, and Matthew Pew grabbed a lot of the shots of the skaters on the ramps. AsMyth came up with the concept and found that great location for us. Jason Singler is the skater you see doing a lot of the really cool jumps and stuff in the video. Liz Krebs did a really epic job with the makeup; that really took things up a notch. Everybody who came out to film that (and it was a pretty big crew) had such positive energy, and we had such a fun time shooting… I'd do it all over again in a heartbeat.
The mansion was a crazy cool place to shoot. It's huge, and it's actually being rented out by a dozen artists right now, so they were super supportive and into what we were trying to do with the video and the critiques of excess wealth in the song, which was awesome. When we saw the bear rug and marble chess set inside of the living room by the fireplace, we knew we had to incorporate them into that shot. Lif and I got super into embodying the greed and self-interest of the wealthy people we represented, so it was fun going over the top with it. I loved it when Lif knocked down all the chess pieces. That was unexpected and awesome. I had a hard time not smiling on camera when he did it.
t. – Should we expect another LP anytime soon? Or more collaborations perhaps?
A.B. – This is only just the beginning, my friend… In the near future, you can look for me on Yppah's new album, which will come out on Ninja Tune this spring.
Can't friggin' wait! Yppah! Are you as excited as am right now? You have all the reasons to be. Don't miss the new EP (I already lisened to it, it's awesome, stay tuned for the review), check out the "Machine" music video in my Video Digest and if you haven't listened to The Crush yet… well, it's totally your loss. Just, please, get out of your boxes!