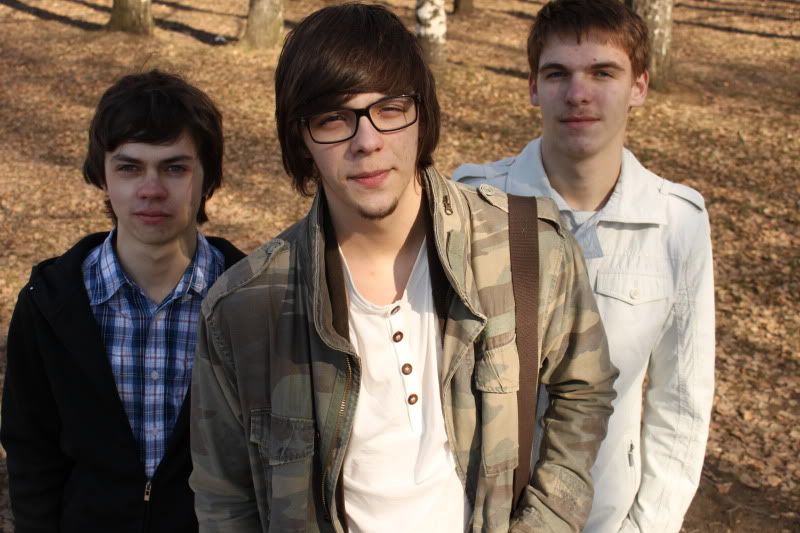 To be honest, when I first started listening to Ночная Жизнь Наших Книг (Nightlife Of Our Books), my hand instinctively went to the STOP button. "Eh, another amateur crap," – I thought, – "another inarticulate self-indulgent mumbling on top of handicraft almost-music". But something stopped my hand, some unknown energy, or actually very well known – the energy of NOOB's music. The more I listened, the more its mysterious atmosphere filled me, the more I understood how terribly wrong my first impression really was. If there is an indulgence in their work, it isn't in any way "self-" – it's indulgence in poetry, in the surrounding world in its every manifestation, and in people – which is an especially strange phenomenon. And the minimalism in the arrangements is actually very subtle and thoughtful –  instruments are not dominating or submitting to vocals, but carry on a live and harmonious dialog. NOOB's music reminded me, an early 90's kid, of that "Russian rock" which is so trendy to dump all kinds of crap on nowadays, but which, despite its technical imperfections had a soul and desire to actually say something rather than make a quick buck with a loud hit. I asked the guys a few questions about their project.
tipkin – As usual let's start with a bio – who are you, where are you from and where did such name come from?
NOOB – In English language there is a word 'Serendipity'. One of its definitions is "discovery made without deliberate actions". This exact word perfectly describes the formation and development of Nightlife Of Our Books. But if you want to go into details, it all began in a provincial town Kstovo on the Volga river, when certain multi-instrumentalist Daniil Rubtsov (Даниил Рубцов) one day invited his friend, an aspiring guitarist and poet Roman Bizyaev (Роман Бизяев), to just for the sake of it try and experiment with recording some ambient music at home, just for themselves. Then the name came about. Have you ever fantasized about what the characters of your favorite books are up to when you ignore their drama and/or happiness filled lives? And then there was a show of the band Записки Неизвестного (Notes Of an Unknown). They left a deep impression in guys' minds and they decided to just for the sake of it, for themselves, try to work in the genre of abstract hip-hop. The recipe turned out to be simple – guys just combined the accumulated Daniil's keyboard pieces and Roman's poetic exercises, simply laying them on top of uncomplicated trop-hop betas. This is exactly how in the course of a few weeks 11 songs were recorded, that together make one story called Твоя Ночь. Моё Утро (Your Night. My Day). After we uploaded the first album on the internet, the duo was joined by their friend Roman Beloglazov (Роман Белоглазов), who became a permanent member of the group. In this exact lineup – Daniil, Roman and Roman, based on the good and bad sides of the first album, guys started recording their second album Жизнь Есть (Life Is).
t. – Even based on online comments I can see that you're being categorized as trip-hop "just because". What is trip-hop to you and is the genre identification of any importance to you at all?
NOOB – NOOB never defined themselves as any kind of genre. It isn't an attempt to escape everything old and reinvent the wheel, it's just no one ever really thought hard about (other than times when we had to submit the album to websites and online forums).
But trip-hop had a very serious influence on all of us, especially such projects as Portishead, Arms And Sleepers and Tricky. By the way, "just because" NOOB is also being categorized as post-rock (it's hard to overvalue the influence of the Icelanders Sigur Ros on us) and abstract hip-hop (it sure is hard to compare Bizyaev's amateur melodeclamation with rapping, but what else would you call music that is based mostly on modern poetry?).
t. – How is the creative process distributed within the group? Does it ever happen that a song is radically changed from the moment of the author's idea under the influence of collective creativity?
NOOB – In the collective there is no such things as author's idea. The entire creative process is based on the formula "1+1=3", where the combined work of several talents results in something bigger than the sum of those individual talents. There three of us, each one comes up with his own part and combined and complementing each other these three pieces become something ready and finished…
But in general we have a healthy anarchy – no one is directing what every one should do, but everyone knows a priori what their goal is at the moment.