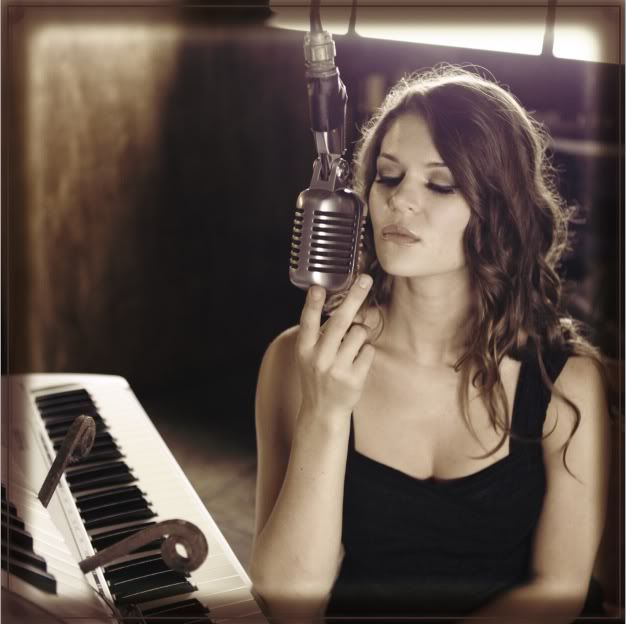 She has everything. Beauty, brains, loving fans from all over the world, recognition from critics and about as much talent as you can possibly fit inside one person. People fall in love with her music and want more. And more she gives, and the beautiful flower of her music career is just starting to blossom. Mimi Page just released her outstanding debut LP Breathe Me In recently and is about to embark on her very first solo tour. Trippin' the rift caught up with her to ask a few questions about some things that matter.
tipkin – What was first – music or poetry?
Mimi Page – Music. I started composing instrumental songs on the piano at age 5, long before I could properly read or write. Music is great like that, you don't always need words to describe feelings – music is a wordless language within itself. I got heavy into poetry + prose from the 5th grade and on. I love the English language and playing with words in different styles and forms to describe my feelings. I always thought I'd become either a film composer or a novelist, I never considered merging the two and becoming a songwriter. Discovering amazing songwriters like Fiona Apple, Tori Amos, Seal, Trent Reznor and Ani DiFranco in high school really woke me up to the merging of both worlds. Those artists kind of paved the way for my own craft.
t. – Was electronica always a part of your music or was there a transition from "This Piano Girl" to "This Piano + Programming Girl"? You are often classified as "trip-hop singer" – how do you feel about that?
M.P. – I think I have somehow morphed everything I love about each genre of music into my own unique style. Each and every one of my songs take on their own identity depending on their instrumentation and structure. I've been labeled Trip-hop, Dream-pop, Dream-wave, Down-tempo Electronic, Ambient, etc…but you can find traces of Classical, Blues, Jazz, Soul, Rock, Industrial, and World within my melodies and rhythms. "Breathe Me In" (the song) is structured like a Pop song, but uses a lot of Asian instruments giving it a World Music feel. "Gravity" is a Down-tempo Trip-Hop tune influenced by the Blues with its chromatic piano and vocal harmonies. "Black Valentine" has an Industrial feel with it's heavier production and aggressive rhythms. "Jigsaw" is your bare bones piano-girl Acoustic Pop ballad. Songs like "Come What May", "Phenomenon" and "My Vanilla Sky" all have that soothing sound that gives me the "Dream-Pop" title, which is what the majority of my older and newest songs sound like. I generally gravitate towards that ethereal dreamy vibe but if I'm pissed off I'll come out with a "Black Valentine" or "Colorblind" which is awesome because the songs end up being something I can really rock out to. The BPM of my songs tend to fluctuate like my pulse, when I'm relaxed they're chill and down-tempo and when I'm worked up they get faster and louder.
t. – Releasing Breathe Me In was a long journey. Can you share some of the most memorable moments?
M.P. – I finished the majority of this album pulled over on the side of the road at my former night job. I was a delivery driver for a small, privately owned grocery store. In between runs I'd be looping demo tracks in my CD player trying to come up with lyrics and melodies. When the right words would come, I'd pull over and write them down on my iPhone and then sing the melodies into my voice recorder. I finished "Gravity," "Come What May" and "Colorblind" in that delivery car. My favorite memories are when I'd listen to myself on the radio during my night shifts. A few of my songs got picked up by radio and every time I heard "Gravity" or "Come What May" on a bad shift, it would make the nights pass by a lot faster. It gave me hope that I wouldn't be there for the rest of my life.
t. – You have one of the most supportive and dedicated fan bases I've ever seen, and you keep in touch with your fans. Is it hard to maintain such relationship as your music becomes more popular? Is there a typical "Mimi Page fan"?
M.P. – I think it's fascinating how diverse the age/gender/race demographic is with my fan base. I've got love from teenagers, senior citizens, and every age in-between. All different types of ethnicities and cultures across the world. There's no "style" of listener, it just seems to be everyone who's discovered me. Maybe it's like the genre thing, I don't fit in one specific demographic, I kind of belong everywhere. The ones who have been following me a while are very dedicated. It's pretty amazing, every day I wake up to these beautiful heartfelt emails and messages from strangers describing how my songs effected them. We're a team in the end, I give to them and they give back to me. When I'm feeling blue I read my messages from them and they keep me going.
t. – Can you tell us a bit about your blog? It seems like it's a very important part of your life as an artist as well.
M.P. – I'm equal parts composer and writer, when the words fail me I sit at my piano and express what I can't verbally. When the music dries up… I play with words. I write prose whenever I've got a music block so I keep the creativity flowing. I love writing for a music magazine now, it's fun. Lemonade Magazine offered me a monthly column after reading one of my blogs. My writing tends to display more of my humorous and sarcastic side which is absent in my music. My writing and my music are like two different personalities, two different sides of myself.
t. – Let's talk about your upcoming tour. Who are the lucky ones that will be able to see you live? Are your live shows much different from the sound we hear on the album?
M.P. – I'm super excited about this tour! It'll be very intense for me…as I'm a complete novice when it comes to touring. I'm a slave to the studio, so I can go 14+ hours of nonstop recording, but the traveling and live rush of different faces and places is completely new for me. We've got 9 straight dates, a different city each day and no days off. It'll be really intense but totally amazing at the same time. I think this will be the biggest learning experience of my entire artistic career thus far, and I think it will inspire a ton of new songs from me. As for my live band, we are a trio. I've got my drummer and bassist: Damian Fink and Mehdi Hassine. Not only are they fantastic musicians, they have so much respect for my music and totally bring my recordings to life. They are also fantastic people and I love hanging around them, all 3 of us met in recording engineering school so we're big tech nerds. Aside from being in my band, Damian is the sound engineer for the Jay Leno show and Mehdi is a professor at several different universities. They are both brilliant and inspiring people.
t. – What's in the future for Mimi Page?
M.P. – So many things! I love collaborating with other artists, and I've got quite a few songs on the verge of being released. I just finished writing a really beautiful song with Bassnectar for his upcoming album VaVa Voom. I'm also wrapping up some awesome collabs with Phrenik, Gladkill, and Kezwik. Warren Huart and I are working on a down-tempo trip-hop cover of Blondie's "Call Me" which is risky because of how awesome the original is, but I love the challenge of taking classic songs in completely new directions. I did that with Chris Isaak's "Wicked Game" and Joy Division's "Love Will Tear Us Apart" last year, you can sample those covers on Youtube. Warren is also my co-producer on Breathe Me In and he's currently working on the new Aerosmith record right now which is SO exciting. I LOVE Aerosmith, their classic hits are amazing but my favorite tune of theirs is "Pink" – I've watched that music video a zillion times. As for my own original material, I've got a couple of new tunes which I'll debut on my east coast tour. One of the new tunes is called "Black and Blue" and I think it's my favorite song I've written so far. It's not finished, so you'll only be able to hear the live version, but it will definitely give a taste of what my next record will sound like.
Can hardly wait! I will also have to wait for a while to see Mimi Page live, but if you happen to reside along the East Coast make sure to catch her show – visit www.mimipage.com for dates and also check out her Facebook page for updates and sweet little gifts that she keeps giving to her fans.